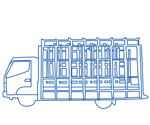 FOR INSTALLERS
Smart-Toolbox is easy-to-use job management software for installers, that will enable you and your team to take control of quoting, scheduling, invoicing and reporting in one system.
Smart-Toolbox has been purpose built for the glass industry and understands your pricing and quoting needs better than any other software on the market. Integrating accounting and production software makes streamlining operations and eliminating double entry easier than ever
With Smart-Toolbox running your glazing business, you're working smarter, not harder.
FOR FABRICATORS
Smart-Glass acts as an online portal for fabricators, where your customers can place and view their orders. Using a dedicated login, customers will be able to draw, price and place their glass order, with you, in a matter of minutes. You will receive a fabrication-ready glass order that only needs a simple sanity check before being sent to fabrication.

Smart-Glass will warn your customers if the hole sizes are too small, the holes are too close to the edge, if dimensions are missing, etc. Your customers will be able to place their order with confidence, and you won't receive any unproduceable orders.
FOR BOTH
If your business does both fabrication and installation, we can help — both Smart-Glass and Smart-Toolbox have features to make your business more efficient.
Smart-Glass can be used both as an internal drawing tool for your business and as an order entry portal accessed by your customers. Smart-Toolbox works well for both fabricators and installers, and it integrates with a range of production and accounting programs.
We'd be happy to talk to you about your business requirements and which solutions may work best for you.